Cheerleaders are a crucial part of any type of sports match. They make half-time more entertaining and help boost the overall morale of the team and their supporters.
But, what are the best of the best in cheerleading?
Here are the 10 hottest cheerleaders in the world.
Top 10 hot cheerleaders
Charo Bishop
A native of Columbia, Bishop has been dancing since the age of five. She attended the Ballet Royale Institution of Maryland, where she studied hip hop, jazz, tap, and ballet, which helped her build the foundation for her cheerleading career in the coming years.
She later earned a Bachelor's degree in Accounting at the University of Maryland. In the meantime, she joined the Redskins cheerleader team and became their captain.
During her cheerleading days, she worked as a tax associate and even opened an online fashion shop, called "& Such Shop."
Ashley P
Ashley P. is one of the sexiest cheerleaders on the list.
The Tennessee Titans cheerleader grew from a Junior Falcons Cheerleader and a young competing gymnast into an NFL cheerleader with serious dancing skills, who has appeared on calendar covers and even made an appearance in one episode of ABC's hit show "Nashville."
Originally from Lithonia, Atlanta area, Ashley attended Tennessee State and majored in Early Childhood Education with the hopes of joining the education sector.
Gabriella Pasqualotto
Pasqualotto is one of the most talented and hottest cheerleaders in the world.
This 33-year-old blonde comes from Pietermaritzburg and was employed by Mumbai Indians as one of the 40 South African cheerleaders in the Indian Premier League.
Pasqualotto made headlines after she was fired from the team for alleging that cricketers displayed "flirtatious" and "inappropriate" behaviour at post-match parties. The IRL and the team did not comment on the accusations, but some cheerleaders backed up her claims.
Isabella Tropeano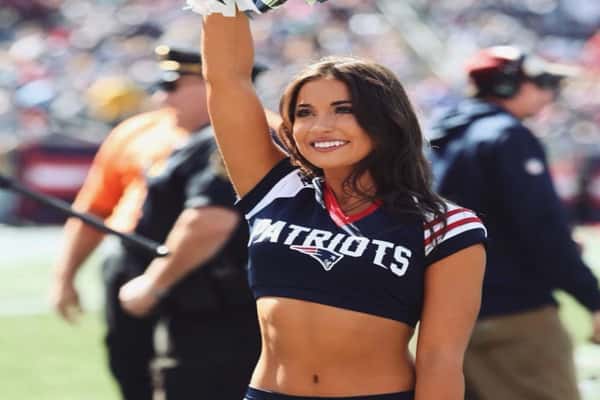 Bella is a former member of the New England Patriots Cheerleading Team and one of the hottest NFL cheerleaders.
She graduated from Boston College with a BA in Applied Psychology and Human Development and after parting with the team, she started working as a model, social media manager, and content creator.
Bella also maintained a blog and worked as a Human Resource intern during her cheerleading days.
Agustina Sol Brischetto
Agustina Sol Brischetto is a former NFL cheerleader who has cheered with the Miami Dolphins for four years. So if you didn't know which NFL team to cheer for next season, the Miami Dolphins can be a good pick and not just for their cheerleaders.
Besides cheerleading, this 33-year-old native of La Plata (Argentine) is also a model. She trained at the National University of the Arts in Buenos Aires, where she studied dance and then moved to New York to study Business Administration.
According to her Instagram profile, she is now a Barre instructor and is waiting for her first child.
Justene Alpert
Justene, who comes from Claremont, California, is so much more than one of the hottest cheerleaders in the world.
She's an actress, dancer, and a former Miss Montana. This 31-year-old attended California State University Long Beach College and was a professional cheerleader for the Los Angeles Rams for several seasons.
She has made appearances on numerous TV shows and movies, including the Amazon Prime series "Bosch," "A Recipe for Seduction," and "The Matchmaker's Playbook," among others.
Sara Bommarito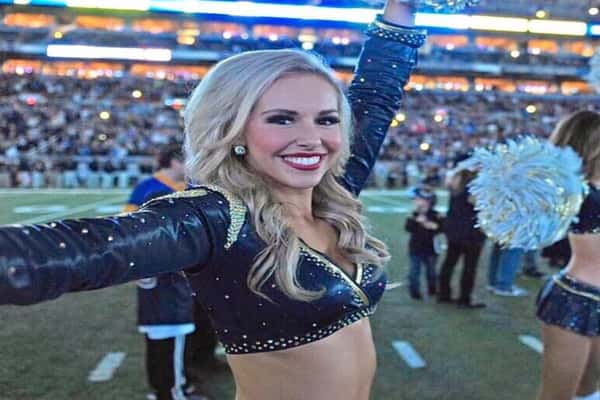 One of the sexiest cheerleaders and beautiful blonde, Bommarito has been dancing since she was five years old.
She started cheerleading when she was only eighteen and represented the St. Louis Rams in the 2015 Pro Bowl. Apart from being a great dancer who has given incredible performances to date, Sara is also quite an adventurous person with an extraordinary spirit and a beautiful personality.
Alicia Marie
Alicia Marie graduated Magna Cum Laude from the University of North Carolina and from Villanova University with a a B.S. in Education and M.A. in History respectively.
She represented the Philadelphia Eagles Cheerleaders at the 2015 NFL Pro Bowl and has worked with the Eagles franchise in various fundraisers for breast cancer research.
Liz Rivera
Liz Rivera is a cheerleader that has gained recognition on a national scale.
She was featured as Miss July on the Houston Texans calendar in 2015. That same year, Rivera was named a Sports Illustrated Cheerleader of the Week and was picked to represent the Houston Texas cheerleading squad at the Pro Bowl.
When she wasn't cheerleading, Rivera worked as a hairstylist. The cheerleader has also revealed that she does Crossfit to stay in shape.
Alise Cayen
Cayen is a former cheerleader with plenty of accolades to her name.
She was a member of the Olympic Drill Team that performed in the Olympic Opening ceremonies in 1984 and cheered for The Los Angeles/Oakland Raiders professional football team from 1989 through 1996.
During her time with the Raiders, she was awarded Raiderette-of-the-Year, Rookie-of-the-Year, and was coveted Calendar Cover Girl in the team's calendar. She was also chosen to represent the team at the Pro Bowl in 1995.
In the meantime, she was a member of the "Football's Fabulous Females" and served as a line co-captain for a total of three years.
Wrapping up
The cheerleading team plays an important role in every match, whether it's basketball, football, or an NFL game.
The hottest cheerleaders in the world are fit because the sport demands it, but they are much more than that. Most of these girls are successful in their own career path and when they're on the field or court, they're completely dedicated to cheering on their teams–regardless of what the scoreboard says.