Formula One, the world's premier racing competition, is one of the most dangerous, most expensive and most exciting sports on the planet.
433 million people watch the GPs on TV, while 4.16 million spectators flock to race tracks every year.
Even so, there are some Formula 1 facts and statistics that even hardcore fans might not know.
Here they are!
Attendance and Sports Viewership Statistics for Formula 1
1 . Recording 365,000 spectators, the 2021 British Grand Prix broke attendance records.
(Motorsport Tickets) (Statista)
The first Grand Prix at Silverstone since the 2020 season (and Covid-19 protocols) attracted a record-breaking 365,000 fans, F1 statistics for 2021 reveal.
The British GP generally brings in the biggest crowds. Thus in 2019, 351 thousand spectators attended the British Grand Prix, more than any other race in the league. Next in line by the number of spectators were the Mexican Grand Prix (345,694) and the Australian GP (324,100).
Surprisingly, the least attended was the Italian Grand Prix. Known as the most dangerous and most exciting race track, this GP saw only 200,000 spectators in 2019.
2. How many people watch the F1?
(Statista)
Over 400 million people watch Formula One on television. Today Formula One, along with the Olympic Games and the FIFA World Cup, is one of the most publicised events. In 2020, the global audience stood at 433 million, while the average TV audience was 87.4 million.
3. Netflix's Formula One documentary series boosted viewership numbers in the US.
(NBC)
Formula 1: Drive to Survive, the documentary series produced by Netflix and Formula One, increased viewership of the sports by 50% by June 2021 compared to the year before.
Viewership figures for the French Grand Prix reached 1.1 million viewers in the US—the biggest audience on record since the 2019 Canadian Grand Prix.
For comparison, MLB saw 1.19 million viewers throughout the entire 2020 season.
4. The 2021 season-opening Bahrain Grand Prix broke viewership records on Sky Sports.
(Sky Sports)
The UK pay-TV broadcaster reported that viewership of the Bahrain Grand Prix peaked at 2.23 million viewers, while the average viewership stood at 1.98 million.
On top of that, the race's opening lap recorded 17.4 thousand views on Sky Sports' social streaming channels, 9.3 thousand of which were live.
5. Formula 1 saw a 99% increase in engagement on social media.
(USA TODAY)
In 2020, Formula 1 followers on Facebook, Twitter, Instagram and YouTube upped engagement by 99%, higher than any other sports league. In fact, the closest was UFC, with a 48% boost in engagement across social media.
Related: Are there any bathroom breaks in F1?
Formula 1 Drivers Statistics and Facts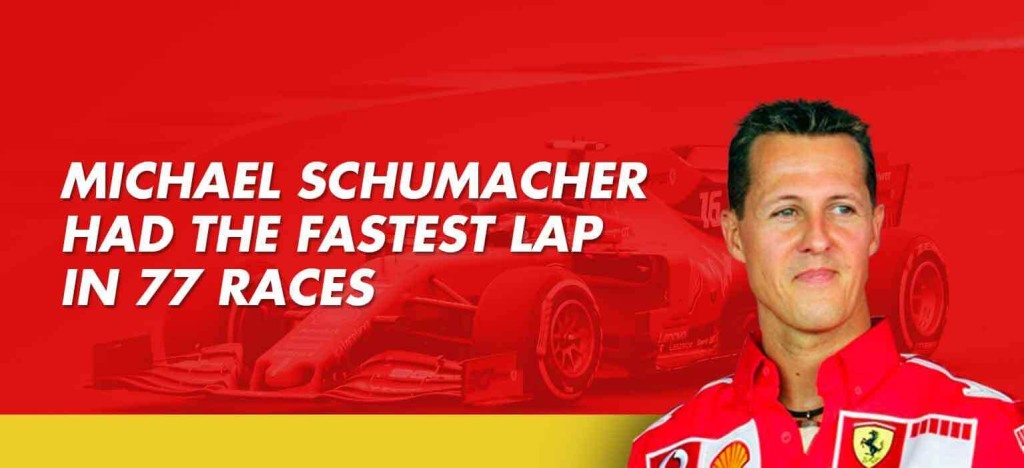 6. Who has the most F1 titles?
(Motorsport Tickets)
As of the 2021 F1 season, Lewis Hamilton and Michael Schumacher are tied in the first spot of drivers with the most titles won. The legendary German driver dominated the sport in the early 2000s, winning five consecutive titles with Ferrari (from 2000 to 2004), and he is also one of the greatest F1 drivers.
Hamilton, on the other hand, has only failed to win two races—in 2013 during his first season with Mercedes and in 2016 when he lost to teammate Rosberg.
Related: Why do F1 drivers get weighed?
7. Who has the fastest lap in F1?
(Statista)
Michael Schumacher had the fastest lap in 77 races. According to F1 statistics as of January 2021, Schumacher is followed by Lewis Hamilton (fastest lap in 53 races) and Kimi Raikkonen (fastest lap in 46 races).
Alain Prost (41) and Sebastian Vettel (38) complete the top five drivers with the highest number of fastest laps.
8. Who has the most Grand Prix victories?
(Motorsport Tickets)
Winning an amazing 103 races during his career, Hamilton is the first driver to break triple figures in F1 history. He is also the first driver to reach triple-digit pole positions, getting his 100th pole position in 2021 at the Spanish Grand Prix.
9. Who is the highest-paid F1 driver?
(Motorsport Tickets) (Forbes)
Have you ever wondered just how much money F1 drivers make?
Earning £22 million in salary, Hamilton is followed by Red Bull's Max Verstappen (£18 million) and Fernando Alonso (£15 million).
According to Forbes, Hamilton is set to make $62 million on the track in 2021 in salary and bonuses, which are the main sources of income for Formula One drivers.
Unlike NBA stars who get paid 32 million in shoe deals and other sponsorships, F1 drivers like Hamilton only receive around $12 million from endorsements.
10. How many F1 drivers have died?
(F1 Chronicle)
18 drivers died in the first decade of F1, ending in 1960. After more safety regulations were imposed, the number reduced significantly to five deaths between 1982 to 1994, ending with the tragic death of one of the greatest F1 drivers, Ayrton Senna.
The last driver to lose his life during a Championship race was Jules Bianchi, who died at the 2014 Japanese Grand Prix.
Also read: How does the safety car work in F1?
11. Ferrari is the absolute leader in Formula One.
(Motorsport Tickets)
Present since the very start of the sport, the Ferrari team takes the number one spot on almost all Constructor records in F1. As of July 2021, it's the team with the most World Championships won (16), most Grand Prix wins (238), most pole positions (230) and most race entries (1030).
Related: How to become an Formula 1 driver
12. Who is the most valuable Formula 1 team brand?
(Forbes) (Formula 1)
Valued at 1.3 billion, Ferrari is the most valuable Formula 1 team brand. According to Forbes, Mercedes is next (F1 value statistics put this team at 1 billion), followed by Red Bull Racing (640 million), McLaren (620 million) and Renault (430 million). Ferrari may be the biggest team, but McLaren seems to be the favourite among fans.
In a recent survey, 29.5% of fans opted for this team, ahead of Red Bull and Ferrari, chosen by 19.8% and 17.9% of fans, respectively.
Formula 1 Car Facts
13. How fast are F1 cars?
(MotorBiscuit.com)
Formula racing cars can get from 0 to 300 km/h in 10.6 seconds. Formula 1 cars can reach top speeds of 360km/h, making them much faster than NASCAR racing cars, whose top speeds clock in at "just" 321 km/h.
IndyCars may be faster, reaching top speeds up to 380km/h; however, Formula 1 cars accelerate in less time, going from 0 to 100km/h in 2.6 seconds.
More interesting facts on F1 cars reveal that:
Each Formula One car is made out of 80 thousand components.
Going at 120 mph, Formula 1 cars can run upside down in tunnels.
The HALO, introduced in 2018, can withstand 5 tonnes of weight and is one of the main safety components that has reduced the number of deaths and injuries on the track.
Related: How much does a Formula 1 car weigh?
14. How much does an F1 car cost?
(Motor Sport)
It costs £14.58 million to build a Formula One car. The engine alone costs around £12.92 million, and it can only be used for five to seven races.
The front and rear wings cost around £100,000 and £61,000, respectively. The exterior of the car also contributes to the massive price—the cost of the Halo is estimated at £12,000, whereas the chassis comes at around £500,000.
These are just rough estimates, while the total cost depends on how much the team invests or manages to cut costs.
You might also like: What is DRS in F1?
15. Since 2010, Pirelli has been the sole supplier of Formula One tyres.
(​​One Stop Racing)
The exclusivity contract between Pirelli and F1 was recently extended through to 2024. Previously, F1 collaborated with other tire manufacturers, including Bridgestone (the sole supplier for the four seasons before 2010), Michelin and Goodyear.
Fun F1 Facts and Trivia
16. The weather can have a serious impact on Formula car races.
(William Hill)
The hot weather particularly impacts drivers, who lose around 3kg of bodily fluid during a race, causing them to become dehydrated faster if they race in extremely hot conditions.
Rain and wind also come with their own set of issues, and in these weather conditions, it's mostly down to the skill of the driver rather than engine power.
Cold weather, on the other hand, does not affect races as much—the coldest temperature on record was 5°C at the 1978 Canadian Grand Prix, which did not delay or cancel the race.
Related: How much is an F1 super license?
17. There were only seven Grand Prix races in the first season of F1.
(Tutorialspoint) (Formula 1)
There are 23 races in the 2021 season, starting with the Bahrain Grand Prix and ending with the Abu Dhabi GP. F1 races have taken place across 34 countries, making this sport truly international.
18. In the UK, men are bigger fans of F1 than women.
(Statista)
Judging from a Statista survey, 19% of male respondents said they were avid fans of F1, compared to just 9% of women. The difference between casual viewers is much lower—34% of men watched F1 regularly, whereas the same is true for 31% of female respondents.
In terms of age, Formula 1 statistics show that 17% of respondents over 65 said they were avid fans of F1 (more than any other age group), while 30% watched the sport casually. Among younger generations in the UK, 11% of 18 to 24-year-olds stated they were avid fans, while 28% of 35 to 44- year-olds were casual fans.
19. The Circuit de Spa-Francorchamps is the longest F1 racing track.
(Motorsport Tickets)
Comprising 44 laps, the Belgian Grand Prix has the longest circuit of all F1 race tracks (7 km). The shortest Formula 1 track, statistics and facts show, is the Circuit de Monaco—racers drive 78 laps on this 3.3 km long race track.
20. Which F1 team has the fastest pit stop?
(Republic World)
Red Bull managed to pull off the fastest pit stop in the history of the sport of just 1.82 seconds with Max Verstappen during the Brazilian Grand Prix.
Although pit stops don't last longer than a few seconds, the longest on record took 43 hours and involved the Mercedes team dislodging the right wheel from Valterri Bottas' car.
F1 Future Trends
21. The Formula One Group recorded over $2 billion in revenue in 2019.
(Statista)
Revenue saw a considerable increase from $1.83 billion in 2018 to $2.02 billion the following year. Nevertheless, the effects of the coronavirus pandemic will bring down revenue for 2020. It is already estimated that the loss of income from hosting fees alone amounts to more than $602 million.
22. How much is the F1 budget cap?
(Forbes)
The most recent facts about Formula 1, however, indicate that this budget cap is only limited to performance-related costs and will not affect the driver's salaries, bonuses and travel costs.
Still, the cost cap, which will go up to $135 million by 2023, is bound to have an effect, especially considering that teams like Mercedes and Ferrari have spent more than $400 million a season in the past.
23. Formula One could embrace diversity in the near future.
(Motorsport Week)
It has been over 45 years since a female F1 driver finished a Grand Prix. This feat was accomplished by Lella Lombardi, who won 12th place at the Austrian Grand Prix for RAM Racing.
Several participants in F1, in particular Lewis Hamilton, have called for more equality in motor sports. While the W-series, a free-to-enter championship for female drivers, has made some progress, it will probably be another 10 to 15 years before F1 stops being an exclusive boy's club.
24. Formula 1 announced that it had struck a $100m deal to sell betting sponsorships.
(YouGov)
F1's parent company Liberty Media has concluded a deal with Interregional Sports Group for worldwide rights to gambling sponsorship in F1.
Sponsors are also able to advertise on electronic boards at race tracks, as well as show visuals on-screen – live odds are an option – according to reports.
Put the Pedal to the Metal
Whether you are thinking of impressing your friends with your knowledge of F1 or placing a bet on the last race of the season, keep these Formula 1 facts and stats in mind.
They are bound to come in handy!
Sources: